Update Version 7 - Christmas Special
Evolved PWI:

C

h

r

i

s

t

m

a

s

S

p

e

c

i

a

l

C

h

r

i

s

t

m

a

s

S

p

e

c

i

a

l on Evolved PWI
Hello Evolved Community, it's Christmas!
Where could you celebrate the upcoming holidays better than on everyones 2nd home - Evolved PWI?
Exactly, nowhere!
Enjoy the Event and merry Christmas from the Evolved Staff
The Evolved Christmas Special is quite unique and will surpass your expectations! (Hopefully).
BONUS
We'll have x2 (Double) Donation BONUS on the 25th of December (Scheduled). Starting from 00:00 PM till 00:00 (24hours).
Important: It's not the donation being doubled, but the bonus you receive per donation in percentage.
How to participate
The Event has 4 different rewarding mechanics, that will offer you methods to farm various Christmas Rewards:
Christmas Event Bosses
Time based Quests
The 3 (World) Bosses
Invasions
New Evolved Event Dungeon
This is our introduction of our new Event Dungeon, with different Event section, starring: Christmas Section for this Event.
You can take the Quest: Christmas Event Bosses from Santa.
You will enter the Colosseum via Santa (525 662) at Archosaur West. You will find yourself in our new Evolved exclusive Event Dungeon, section: Christmas special.
You will need a Squad of at least 2 players in order to access the Colosseum. The leader will teleport his party into the Section.
Type: Daily
Rewards: Christmas Gift - Green, Christmas Gift - Purple, Christmas Gift - Gold
Kill the Three Bosses
This is another Daily Quest you can take from Santa in Archosaur West. This Quest is different from the others because depending on your Level you will face either easier or harder Bosses.
Level ranges:
LV. 30~50, will require killing: Qingzi, Hercule Trioc, The Myriadtail Wyvern
LV. 51~90, will require killing: Undying Hornshell, Brigand Transient and Phlebo
Lv. 91~105, will require killing: Cerberean Sentinel, Alphaleus and Mystery of Antiquity
The World Bosses have a modified Cooldown time during Christmas special of: 30 Minutes with disabled Drops.
Dungeon Bosses (Lower level Quests) are still in their default state
Type: Daily
Rewards: Christmas Gift - Green, Christmas Gift - Purple, Christmas Gift - Gold
Time Based Quests
You can take the Timed Quests to kill Snowman from Invasions:
Kill 150 Snowmen

Kill 120 Snowmen

Kill 100 Snowmen
From the Santa NPC in Archosaur West. As the name suggests, you will have a certain period of time in order to finish killing the given amount of Mobs, if your time runs out before accomplishing the goal - Your quest fails.
Type: Repeatable
Reward: Christmas Gift - Gold
Snowman Invasions
We have scheduled 3 Invasions, that will be held in the following cities:
Archosaur City (All areas)

Etherblade City

City of Lost

City of Plume
Tellus City
City of Raging Tides
Dreamweaver Port
You will need to kill the Snowmen Mobs (NEED FOR TIMED QUESTS) spawning in all these cities.
The Invasions will take place at the following automated Times: 2:00 AM, 10:00 AM, 18:00 PM (Server time).
The Invasions will last for: 20 Minutes
Type: Scheduled
Rewards: Snowflakes, Candy Crane, Ornament, Star, Angel
Santa
(How to exchange your Goods)
You will find Santa in ADC west (525 662), where you can exchange all your Snowflakes, Candy Cranes, Ornaments etc for various Christmas Special exclusive goods including:
Christmas Gimmik:
To make the Invasion equally fair to all classes, we have decided to add a little feature to it, which we hope that you all will enjoy!
You may access at the Reindeer NPC, the following Christmas Weapons:
Snowball Launcher

+

Snowballs (All other classes)

Snowball Fists (Archer | Duksblade | Assassin)
With these Weapons everyone, regardless of Level or class should have a fairly equal participation in all the Invasions.
Preview: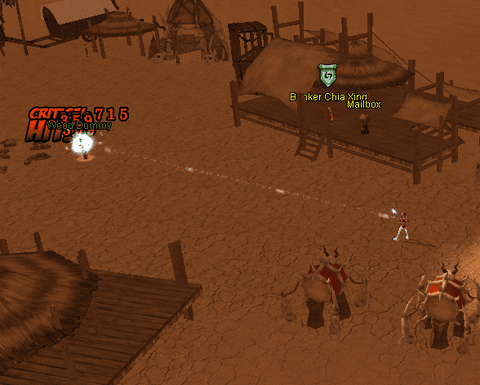 Note: These Weapons will only be available during the Christmas special, and will later on get eventually removed.
Arigora Colosseum
(Always open)

Arigora Colosseum was enabled to be open constantly, every day. - You can enter any time.
However, you will be able to participate in a Fight only up to 5 times daily (per character).
The Gladiator Era
We've also added new Gladiator Fashion, that matches the Argiora flavor perfectly, previewable below:
The Arigora shop was extended and re-worked to display even more Tabs and items: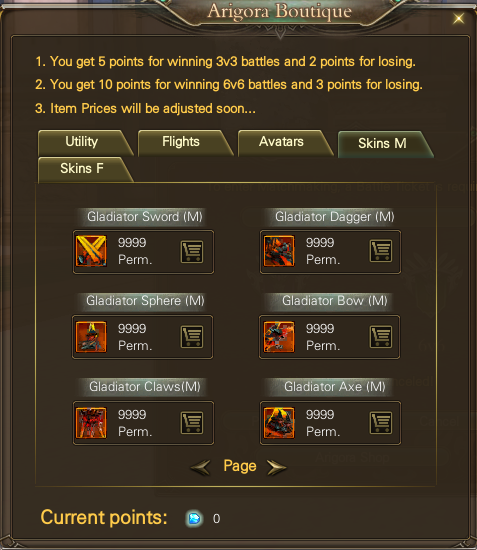 New Hosts
We've added 2 NEW hosts:
PH - 1 (Philippines)
BR - 1 (Brazil)
New Embrace
We've added the new Embrace system, that will be accessible via the Character menu (Right click on your Targets Icon). You will be able to choose between various animations.
A Quick demonstration:
Re-Rolling Menu
The menu, where you'd usually re-roll your stats was optimized and refined. It will display stats more clearly, without requiring to scroll down or up. It will also display the graphics properly and even give you a timer, on when you ran out of time to make your decision whether to keep your stats or not. This is a little warning mechanic integrated into it: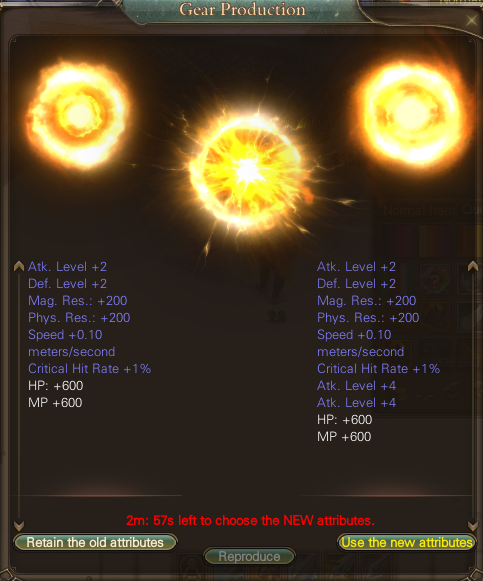 Sky Pirate Drake's Airship
Since many of you reported, that overkilling/nuking Drake seems to cause issues in the portal/AI opening of it, we have decided to buff Sky Pirate Drake's Airship by x2 in all terms, to grant you a safer opportunity of accessing the portal it opens.
Reports
All types of bug reports individually sent to us via our personal Bug report tool, were located and fixed. In case you face and issue make sure to report it by filling in the data and sending it to us, once our tool pops up. Thanks in advanced!