Update Version 28 - Halloween Special
Update Version 28 - Halloween Special
Evolved Halloween Special
It's Halloween, Evolved Community!
Welcome to our Halloween special, that comes with a lot of new things as well as other changes
How to participate?
The Event is split into 2 parts:
Invasions - Parades
Quests
Halloween Parade:
Halloween Parade (Invasion) will launch DAILY, in all Main cities (Lost City - Etherblade - Archosaur - Tellus City - City of Plume - Raging Tides - Thousand Stream City and Dreamweaver Port) at:
2:00 AM, 10:00 AM, 18:00 PM (Server time).
Each invasion lasts: 25 Minutes
Mobs will have the chance to drop the following items:
Halloween Cookie
Pumpkin Seed
Jack O' Lantern
Witch's Brew
Trick or Treat Bag
Used to craft items at the Trick or Treat NPC in ADC West, which will allow you craft to one of the following items:
Weapon Skins / Weapon Fashions (

Unique - Halloween special ONLY

)
Halloween Titles (

Unique - Halloween special ONLY

)
Genies (

Unique - Halloween special ONLY

)
Battle Pet Monkey King - New Skin
Battle Pet Phoenix/Hercules - New Skin
All Class Pets
10 Million Big Note
Ultimate Dragon Orb pack
Medal of Glory
Rank 9 Recast 3 Molds (

Halloween Special ONLY

)
Halloween Quests
You can also take Quests at Trick or Treat NPC in ADC West in order to kill Halloween Bosses. You will get Teleported into a unique Dungeon via the NPC: Trick or Treat.
The Bosses respawn every: 5 Minutes
Note: It has level ranges, and requires at least 2 characters to be in the same Squad - having the same level range (From X ~ Y)
Level Ranges:
LV. 30 ~ LV. 55
Lv. 56 ~ Lv.100
Lv.101 ~ LV.105
Previews
Halloween Weapon Fashion (Version 1)
Halloween Weapon Fashion (Version 2)
Halloween Genies and Halloween Special Pack
Other changes
Hello Evolved Community, beside the engine upgrade information below, we would like to point out, that this update was a major change required in order to apply the NEW Classes! It was the base/platform for all the work, that will from now on be applied. The tweaks are so huge and plenty, that mentioning all of them performance, engine and overall effect/game wise would fill up 10 entire patch notes. We have decided to point out below only the few, that we find reasonable to mention, and that might be interesting for the community. To conclude it in one sentence, after this update its a completely different game and from now on it will become a new version of Perfect World itself!
Angelica 2.2 (64 bit) engine upgrade
The entire client was updated in order to operate now on 64 bit instead of 32 bit. However, both of the executions were kept in tact, in case of players being stuck to 32bit due to outdated components. The new engine should provide a far more stable, smoother and overall better appealing gaming experience, that will hopefully bring everyone joy.
Note: new rendering might cause some skills to have changed colour
The entire lighting and reflection system was completely overworked and should represent the game in a way more realistic manner. It applies to all objects on all maps of the game affected by light
The entire fog system was updated in the sky area and also underwater, for more realistic appearance
For a more realistic appearance of the overall ambient, SSAO was turned on and will hopefully provide a great visual experience to everyone
The water will now be represented a lot more realistic without any white effect in reflection
The grass was completely re-worked for a more realistic appeal
We have added 2 new action buttons:
Toggle Charge
Toggle Simple Mode
These 2 new buttons are available in the Skill list menu (Pressing: T) and will have the following functions:
Toggle Charge - Will make you able to either enable or disable the perfect charge cancel on skills, that relay on charging up for their either minimal or full potential of damage dealt. You can place it on your skillbar and enable or disable it at your will, even during combat. Bringing more variation to playstyles for all classes, that contain these type of skills.
Toggle Simple Mode - Is more of an entire system rather than just an action key. It should be mentioned, that it only affects players around you.
It will do the following as for now:
Disable their Fashion model
Disable their Weapon fashion model
Disable their Genie/fairy model
Disable their Flight model
Swap every mount for a standardized Panter mount (The mount has the least FPS impact in the game)
You can use this button whenever you want, it has no restrictions, cooldowns or whatsover to it. You may add it to your skillbar as well and toggle it at any point of the game. We recommend using the simple mode during player clustered situations such as Territory war or Nation wars as well as generally mass PVP orientated situations.
Note: Your skill animation will remain completely intact.
The Squad interface was given a new button: Select All. Which should allow you to select or deselect all class displayed within this menu. For a quicker and more responsive way of finding your target and operating during PVP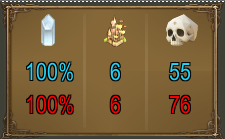 This new feature will display the following stats during Territory War:
The Crystals Health in percentage (%)
The amount of remaining towers (digit)
The amount of killed players (digit)
Hopefully it will lead towards more control during Territory war for both sides and will provide better operating during all phases in Territory war
The server time will now be displayed above your Chars health bar. It will represent the precise time of the server for better tracking of certain events in combination with our guides on our database. It should help newbies especially within the first months on the server. You may disable it and make it disappear at will.
Buff icons, that are above the regular size of buffs, were re-worked to display proper information and provide the player with a precise status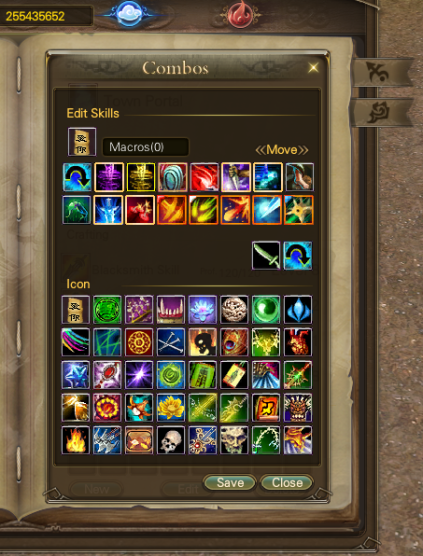 The Macro interface was re-worked to provide the player now with a total of 16 slots, instead of 8 as it was before. The slots are fully functional and work from the left to the right after the row above has ended.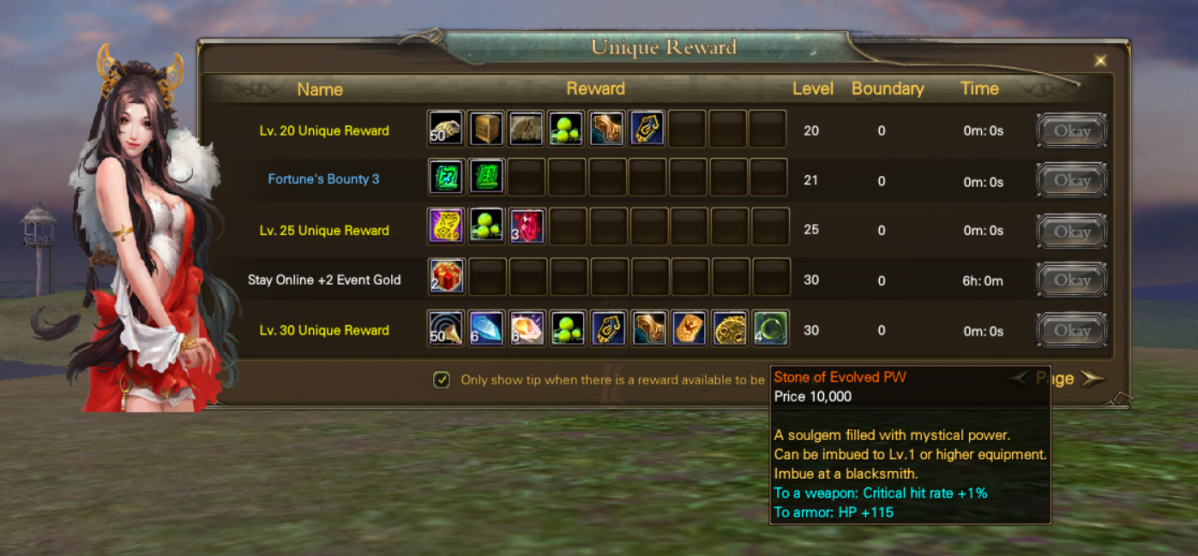 The Unique rewards interface (Golden Chest) was re-worked to display all rewards a player may get at a certain level, previously it couldnt show all of the rewards due to its default small size and limitation in slots
Titles that where in length at 32+ letters used to be displayed with "...." at the end, hiding the full title name. That was now fixed and will show the entire title properly.
Skill reports & fixes

●Roar of the Pride - Stun and disable enemies weapon for 6 seconds
○Roar of the Pride - Stun and disable enemies weapon for 6 seconds
ΦRoar of the Pride - No longer disables enemies weapons
ΩRoar of the Pride - No longer disables enemies weapons
ΨIronheart Blessing Argent - Now uses player max health instead of current health
ΨSoothing Pulse Argent - Now uses player max health instead of current health
ΨChromatic Healing Beam Argent - Now uses player max health instead of current health
ΨStream of Rejuvenation Argent - Now uses player max health instead of current health
ΨEarth Vector Ethereal - Stun fix as per your description, will always stun target
ΨCrush Vigor Sanguine - Adjust for proper skill behavior
ΨCursed Jail Golden - Adjusted damage calculation of skill
ΨCursed Jail Verdant - Adjusted damage calculation of skill
ΨCursed Jail Ethereal - Adjusted damage calculation of skill
ΨCursed Jail Sanguine - Adjusted damage calculation of skill
ΨCursed Jail Argent - Adjusted damage calculation of skill
ΨShadow Jump - Will no longer remove invisibility when casting
ΨGale Force Argent - Distance fix as per your description
ΨEternity - All types of Glyphs - Switch effect Fast Attack with Increase Damage Dodge
ΨFrozen Flame Argent - Now applies status Frozen on enemies
ΨRelentless Drift Argent - Adjust for proper skill behavior
ΨDevour Verdant - Adjust to Never misses

Special: All Elf Priest Sanctified skills have now 50% less chance of being canceled while casting
Nation Wars can only be entered now individually. Squad entering was disabled. However you may form squads once you are inside
Territory War pulling/teleporting

From now on, a player that has a catapult linked to himself wont be able to get pulled or teleported by any class skill
Suggestions
Added a brand new Rank 9 Recast 4 Weapon (

PVP

/

PVE

) called Nirvana Blade. A Seeker restricted sword, that should bring more variety to the class in terms of build. Please leave more suggestions in the suggestion panel regarding weapon build type changes: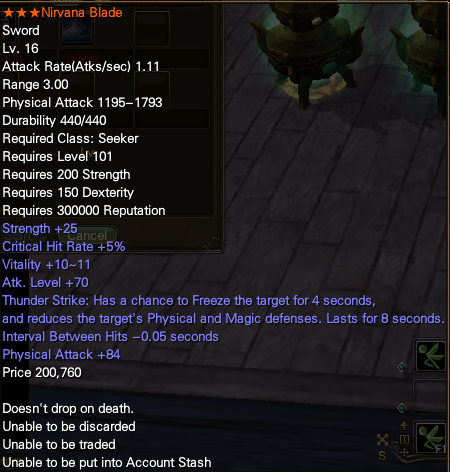 Adjusted the Reawakened Mold icons to match the Helmets they are being used to craft
Added to Veteran Roberts the following potions:

Potent Recovery Potion x2

Potent Invincibility Potion x2

Potent Freedom Potion x2

Potent Chi Potion x2
Note: They will be exchanged for Yin Yang Twin Stone at the rate of 2:1 Potion. The potions are untrade-able, undroppable etc.
Added Tailor Fang Pei, Blacksmith Tao Jue and Craftsman Wu Min (or any Tailor, BS, Craftsman) to Twilight Temple near the TT Forges
Added reported missing Fashion to the Shops
Fixed the Firecrag Grotto teleport via Calendar
Armored Bear will spawn always at the coordinates 670 617 it can now be tamed without being spam killed due to its Card Boss spot
Updated requested Guild icons
Updated requested Guild Banners
Updated requested custom Titles
Book or skill descriptions that were missleading due to displaying the wrong Cultivation required
Books from Vyn Ren Trainer can now be reverted back to Pirmordial Blood at Vyn Ren Trainer Revert at ADC West