Evolved Elysium Expansion
Welcome to the Evolved Elysium Expansion. Our expansion was completely customly made, but still includes the official basics and features, that were introduced by PW International. We have given our Evolved touch to all the extentions and tried as much as we could to give it a unique Twist!
The selfcreated Evolved Elysium Expansion will contain a lot of content, and a lot of never before seen features regards the game we all love: Perfect World International.
It will contain also bug fixes, admittingly there were very few and very minor bugs, due to the fact, that Evolved Perfect World International is a very reliable, very stable and most importantly very profesionally designed Server.
The biggest suprise, that our new Expansion will introduce are the New Classes. They are completely new to our server and will have their limitation set completely depending on our server concept, and server specifications. Removing or not including certain things like Avatar Cards, Starcharts and so on will still remain in this Expansion.
The new classes will bring fresh air in the gaming scene, and will hopefully animate a lot of players to give them a try and maybe with a bit of luck mobilize even more players, than we already have on our constantly growing private server!
All further changes and additions, are listed below under Expansion Features, so take your time, grab a snack and a drink and read carefully what this awesome first of a kind Expansion Patch includes.
Evolved Elysium Expansion introducing the Nigthshade Classes
You will be able to create Duskblade and Stormbringer from the character selection screen in your account after you updated your client to version: 19
You may find a proper explanatory guide about the Nightshade classes under the following link: Evolved Nightshade Race
Note: In case you encounter a Quest, Mob or Boss, that is related to the New classes and isn't dropping/giving anything related to them, which it originally should, make sure to DM Raven or BeasT on Discord.
Faction Base (Trials) Part I
Faction Base Trials rewards were re-worked and addapted to our server concept.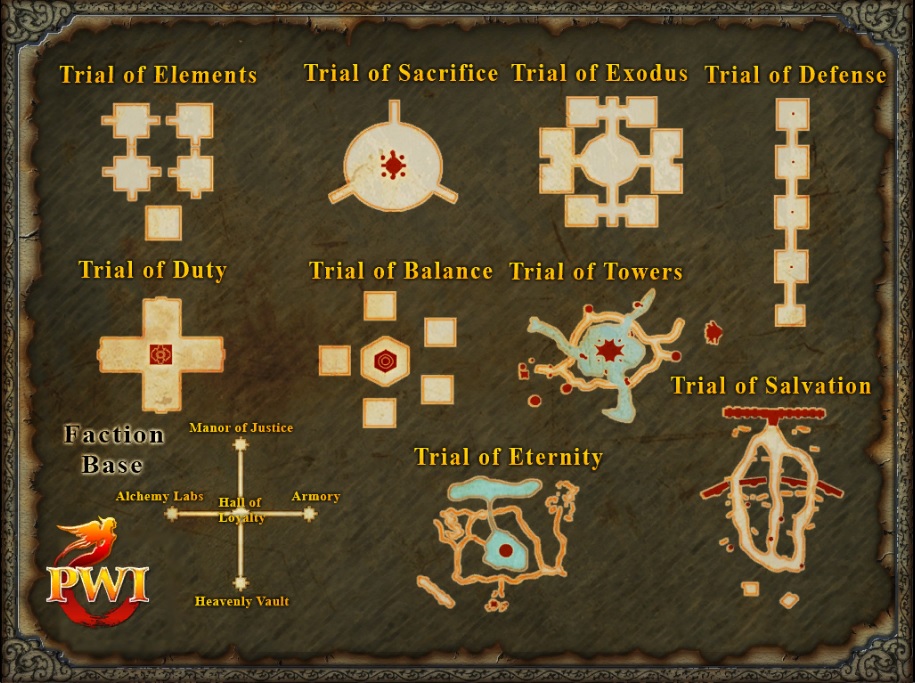 Aside of the usual things, which Faction Base will reward - click Guide: Faction Base
The Trials will from now on be mainly focused around R8 - Recast (R8RR), and reward people with the new Main Reward: Fortifications Seals used to re-craft and re-roll your R8 Recast Weapons and Armors
Aside of Fortifications Seal, the new Faction Base has also a new Side Reward: Fortifications Essence
The main rewards in Faction Base Trials:
Fortifications: Copper (Reward: 2x Fortifications Essence) < New Reward
Fortifcations: Silver (Reward: 5x Fortifications Essence) < New Reward
Fortifications: Gold (Reward: 10x Fortifications Essence) < New Reward
Beside the new Copper, Silver, Gold rewards. We have turned the item: Warrior Seal into Fortifications Seal
These rewards are by 30~40% better than the old R8 - Recast (R8R) rewards.
Note: Please make sure to write down all Trial Boss names when encountering them, and send the Names to Raven on Discord/Forum or in Game, in order to change their drops in an other Patch. (Part II)
Rank 9 PVE Set - Part II
This is the part II of our Rank 9 PVE Set - Patches, where we included a 2nd type of Rank 9, Rank 9 - 2nd Cast Cast Sets and BRAND NEW: Rank 9 - 3rd Cast. The way to obtain the Armor and Weapons is identical.
Upgrading from Rank 9 to Rank 9 - 2nd Cast (PvE)
You can either decide to continue using this set (The normal one - PVP set) and upgrade it just as shown in https://pwi.gamepedia.com/PWpedia or you can use that Rank 9 (First cast) in order to upgrade it to Rank 9 - 2nd Cast PVP or 2nd Cast PVE set at the Commander-in-chief they can be identified by their Name tag, saying Rank 9 (PvE)
The Armor will give mostly PvE related Stats, which are useless in PvP
Uprading: Rank 9 R2 (PvE) to Rank 9 R3 (PvE)
It's pretty similar to the previous upgrade, since the farming is retail:
Do Warsong City (Min. requirement: 2 Squad members) and try to obtain:

Offensive Essence

Defensive Essence

Basic Badges

Required: Mold

Use your

Rank 9 (2nd Cast) - PvE

Armor, Weapon and Belt in order to Re-Forge the upgrade:

Rank 9 - 3rd Cast (PvE)
You may craft the new (PvE) set at the new Forge: Peerless Forge (PvE), which is located in Warsong City, near the original Forge. As shown below:
New Soulgems
In combination with the brand New (PvE) Rank 9 Sets, this patch will also introduce 4 completely New and never seen before Soulgems, that will match the new PvE Set perfectly:
Diamond of Leviathan
Gives: Warding +2 to Armor or Weapons
Diamond of Lion
Gives: Slaying +2 to Armor or Weapons
Nephrite of Steady Defense
Gives: Warding +3 to Armor or Weapons
Divinity Stone
Gives: Slaying +3 to Armor or Weapons
You can obtain the new Soulgems from our two New Packs:
You may combine Diamond of Lion to Divinity Stone at any Jewelscraftsman in all Major Cities
You may combine Diamond of Leviathan to Nephrite of Steady Defense at any Jewelscraftsman in all Major Cities
Expansion features:
Auto-Swap
We have added a new method to properly, with no time loss, automated switch between your items during either PVE, where every second counts in an important Dungeon or in PVP.
AutoSwap is an item, which was added to the Unique Rewards (Quests).
Displayed on your screen as Gold Box
AutoSwap Mechanic:
A quick demonstration of AutoSwap can be previewed below: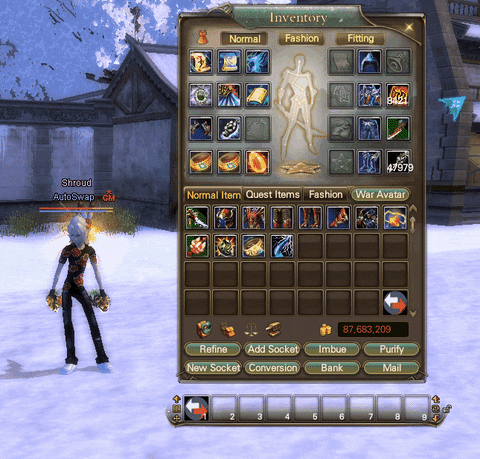 AutoSwap Mechanic of individual Items:
A quick demonstration of of AutoSwap can be previewed below: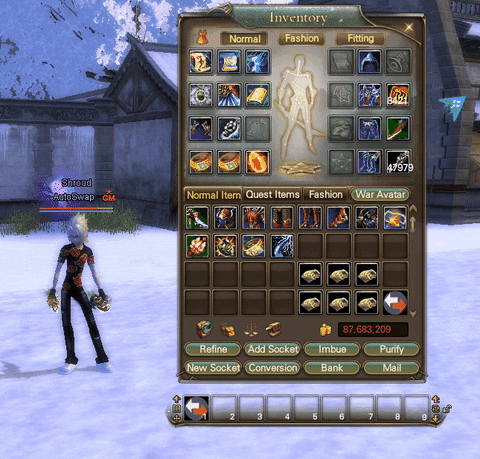 Note: The AutoSwap feature is very useful in PVE related circumstances or Dungeons, due to the fact, that on Evolved Perfect World International you are allowed to create more Rank 9 and Rank 8 Sets. Having the chance to switch between Defensive and Offensive builds!
The Health Bar
We have customised the Health bar. It will precisely display your opponents/Squad members HP amount when clicking on their characters:
This unique feature should help you determine your opponents state during PVP and help you out react properly in dangerous situations during PVE
Reduction of Cooldowns
We have changed the waiting time on the following features:
Your characters will now remain 24 hours in the deletion screen before getting completely removed, once you initiate the deletion. Reduced from 7 days to 24 hours
The binding destruction used to take 72 hours and was now reduced to 30 Minutes. Please be aware, that destroying Bound items will lead to their removal (Used often to get rid of items that overfill inventory space)
You will have to wait only 1 hour from now, in order to return back to Blue Name (PVP Protection Mode). It used to be 10 hours
CHI - Vigor Collection
Players usually most of the time lack CHI or Vigor during any kind of situation, whether its fighting strong Bosses or fighting real opponents. Therefor, we have decided to tweak the essential Attacking Speed, which a character has when they Un-equip their Weapons. The basic Attacking speed in the new Evolved Elysium Expansion is now set to 5.00 when having no weapon Equipped.
Demonstration can be previewed below:
Dungeon Resets
Usually people feel annoyed by the fact, they need to find somebody (or use Alts) in order to reset their Dungeon while playing Perfect World International
Reset Dungeon: Causing the Mobs and Bosses in a Dungeon to respawn
Evolved Elysium Expansion has introduced a new completely customised Button, called: Dungeon Reset Button
Preview:
The button will only work, in case you are Outside the Dungeon - World and will have a cooldown of 5 minutes. In case your reset wasn't successful, be aware that it's still under cooldown (Preventing it of getting spammed)
Switching Modes:
(APS and DPH)
Everyone knows, that Perfect World international has two damage mechanics:
Attack per Second (APS)
Damage per Hit (DPH)
These two are pretty selfexplaining and usually were accepted as such. The only difficulty there was usually criticized by the players is the fact, that they can't be properly divided.
Evolved Elysium Expansion is making a clear statement regards the two Modes and introduces a new Button: Disable Auto Attack which will allow you to switch between both modes regardless of your class.
Enable the Button:
Auto Attack ON:
Auto Attack OFF:
Note: You can't autoattack between your skills, if you have "Disable Auto-Attack Button" enabled
Other Changes:
Nightshade Flights have been added to Cubi shop and Event shop (Evolved Elysium Expansion)
Nightshade Armor, Ornaments and Weapons were added to ALL Forges, that are used in order to craft these items
Note: In case any Quest, Mob or Boss, as well as Event is not rewarding the items it usually would for the new Nightshade classes, please make sure to DM Raven
Demon | Sage Stormbringer Skills (Box) and Demon | Sage Duskblade Skills (Box) was added to Cubi shop
Re-name Faction Stone was fixed and will let you re-name your Faction with 20 letters max.
Morai Skills obtained from our 3 Orders: Shroud, Corona and Luminance were made Trade-able
Morai Skills were added to Cubi Shop
Jungle Ruins Race approach was changed, because it was not as clear to everyone in form of announcement:
Treasure Seeker of the Jungle will spawn the following Times:

3:00 AM, 9:00 AM, 15:00 PM, 21:00 PM

The NPC will be available after it spawns for the next 3 hours followed with a proper announcement
Dragon Quests were limited to 3 times per day
Nightshade Weapon Fashions (For Stormbringer and Duskblade) Were added to the Cubi Shop